As part of our our mission focused agenda on Trex Decking Projects, we offer full service Outdoor Living Spaces contracting in the greater Kansas City, MO area, as long as it includes a Trex Decking Product.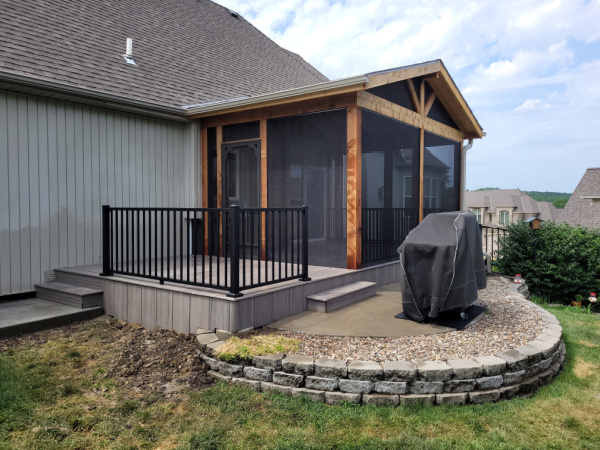 Services Offered in Conjecture by Qualified Sub-contractors for Outdoor Living Spaces
Stamped Concrete & Regular Concrete 

Screens – Snap/loc System

Electrical

Framing & Shingling

Pavers & Stone Columns

Design

Fireplaces & Water Features
The timeline to go from conception to building Outdoor Living Spaces is usually 8 to 10 weeks for a fully thought out project.
Step #1 Contact us and set up an appointment.

Step #2 Initial Meet & Greet ~ Establish a budgetary goal & discuss what it takes to meet design expected.

Step #3 Meet with our professional designer to draw up a set of plans.

Step #4 Revise, Revise, Revise And Build!
Our Portfolio Of Outdoor Living Spaces
Here are some photos to stimulate your imagination of the available outdoor living spaces possibilities!
"Why should I choose Trex?" you might ask. Take a look at our page detailing why Trex Decking is better!
For information on our warranty and other details about our building practices, take a look at our page detailing how we build!