Handcrafting Quality Decks Since 2015
Pairing Old World Craftsmanship With New-Age Composites
Our 6 Main Goals of How We Build
Having a small crew of guys who build Trex Decks every day gives us a quality leg up on our competition. We value cleanliness, honesty, and morals as standards when hiring. We want to build more than decks. We want to build relationships with the community that are respectable.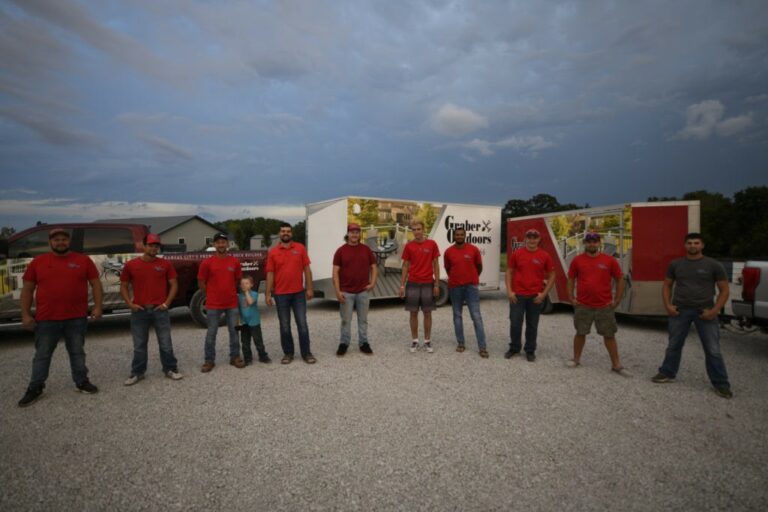 Meet and learn to know the people that we have on our team. We feel like it is important that you can trust the people that we bring on your property.
#2 – Play by the Rules
We always pull permits for new construction and always build to code, whatever the project may be. We wish to save you, the homeowner, from any potential grief and future problems due to the structure being incorrectly built. 
#3 – Materials
We believe that our Trex Products, steel framing, and our treated wood framing with joist tape are the best possible quality material to build with. Concrete piers, post brackets, and galvanized fasteners are a must. And, no nails allowed on a Graber Outdoors Deck!
#4 – Installation
With an efficient and targeted effort, we can get in and out quickly, weather permitting. We pride ourselves on being mannerly on scheduling and staying on one job once it is started.
In our flooring installation, with Trex nylon hidden fasteners, you will have no exposed fasteners on your floor. Our specialty is our picture-framed stairs, which provide a high level of quality for you, the homeowner.
#5 – Warranties
If you truly want a maintenance free deck that lasts you for a number of years, the most critical part is a working long-term relationship with a contractor who will service and take care of you.
When we sell a deck, we realize we are committing to a long-term relationship with you, the customer. This is why we offer a 3 year labor warranty on top of our Trex Pro Certified installation. 
#6 – Follow-Ups
Follow-up visits are a part of life in the deck business.  Mother Nature and the sun reveal our weak points quickly.  So we dedicate ourselves to periodic follow-up "checkups" and strive to respond promptly if an issue arises.
We appreciate the opportunity to do follow-ups because we cannot address the issue if we are not informed of it.
What People Say About How We Build With Trex
Project: Build or Replace a Deck or Non-Masonry Porch
"Graber Outdoors did an outstanding job on our deck. We are extremely pleased with the craftsmanship and work quality. Worked well with us to create our vision for outdoor living space. Highly recommend!"
– John S. in Hamilton, MO
$1,000 – $9,999 Project in October 2017
"John and his crew did an excellent job on our new deck. His estimate was great & he was very timely on the project. He showed up and completed the project exactly as he said. We replaced an old depreciated deck with a brand new Trex Deck one. John Graber & his crew did an outstanding job and the quality & workmanship is excellent! 
John & his crew were very friendly & easy to work with. We had multiple last-minute changes & requests and each and every one they accepted and handled with outstanding customer service and openness. They even helped us spread large rock that we put in under the deck after removal of the old one prior to the start of the build of the new one.
You couldn't ask for a more friendly, customer oriented group of guys. They put up with all of our questions and changes without blinking an eye. And again, the quality and craftmanship of the build was excellent as well. The price was also very good as well. Couldn't be more pleased!
Thanks again to you, John & O.J & Ezra! We really appreciate you guys! Hope to maybe come to Jamesport to visit you guys in the near future."
– Ken L.
Here are a few frequently asked questions that we hear. Feel free to hit the dropdowns and read our answers!
Why do people hire Graber Outdoors over other contactors?
Our proven consistency to provide a quality deck on budget and on time.
Our impeccable reputation.
Our commitment to detail and follow up.
What sets Graber Outdoors apart from every other deck builder?
Our laser focus on Trex Decking Products.
By specializing in and being the premier expert in Trex, and not using 10 other products, our expertise and familiarity grows daily as our install times drop, saving you, the client, valuable dollars!
Does Graber Outdoors handle production in house?
Graber Outdoors is staffed with in house skilled craftsmen who are committed to their job and Trex Decking.
Subcontractors are hired for concrete, electrical, and other details, but never for a beautiful Trex Deck!
The Graber Outdoors Difference!