Welcome! Meet the office staff and the team who will be building your outdoor project!
We value the importance of you knowing who is working for you! We trust our employees will be a delight to you!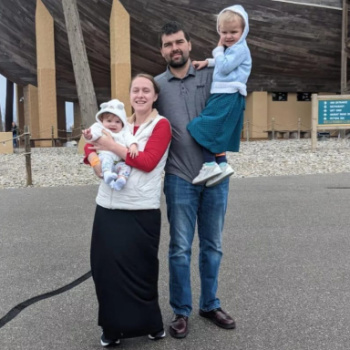 John Graber Family
Without him and his never ending energy of planning and making things happen, none of this would be a reality! He is the one we all call if there is a problem on the job or in the office…He's the go to! Maybe that's why his phone is always ringing?😂

Truly, the guy is gifted and has many talents. Craftsmanship and leadership are the ultimate ones! He is sharp as a tack and doesn't miss a thing. He will go over and beyond to work with you and help create your space that you dream of!

Being a father and a husband is his first priority! The 3 females in his life pretty much have him wrapped around their fingers😉 He never knows what he will find when he gets home…😂 He enjoys every moment of the chaos!

Thanks John for the opportunity to be a part of Graber Outdoors! We appreciate you and all that you do for us❗❗
(Seriously. Thank you!!!)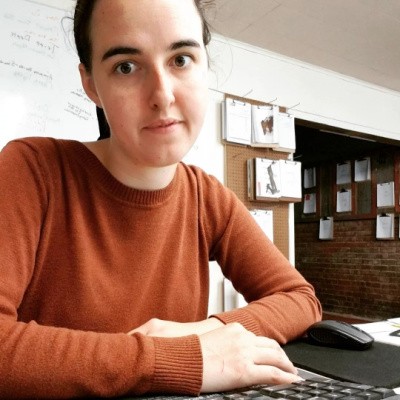 Laura
I'm the secretary at Graber Outdoors! (Or I should say I pretend to know what's going on….😂) If you call the office, I'm the one you will be communicating with.

I love my job! I love talking with people and helping solve problems, lining things up and trying to help each job go as smoothly as possible! I love numbers so the bookkeeping is the fun side of the job.

I'm honored to be a part of this business! I love the quality of work and craftsmanship we give to each project. Also the details that we take care of that make the whole experience much easier and stress free for the client!

All in all, the only downside is I never get a rain day while others do. I'm starting to think it may be because I work in the office….🤭 🤷‍♀️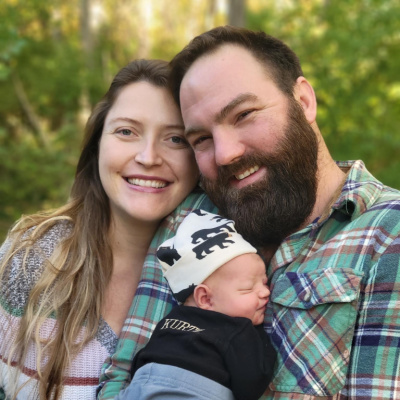 Michael
Michael is a family man, recently married and just had his first little boy named Gilbert. His family and faith mean everything to him.

He's been around the block when it comes to building projects. Working on crews that build anything from hog barns to residential houses to grocery stores. He knows a good product when he sees one.

From the words of Michael himself:

"Watching John grow this business has been nothing short of inspirational. A lot of the crew members and even John grew up in Jamesport with me so I know personally how hard they work to make this product as good as it is.
I'm very excited for this new venture and look forward to bringing family and friends a little closer together spending time on their new Trex Deck."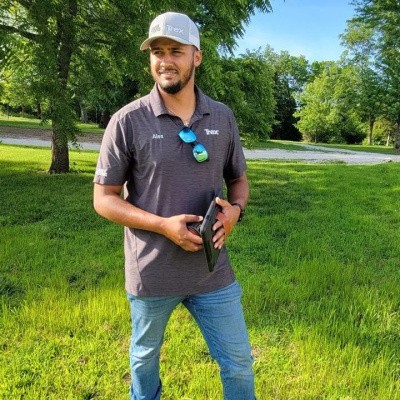 Alex
Alex is the guy who you will meet with to go over your project and get all the details and information we need to create a free estimate for you!

He's the one who can help you with your ideas, give you his professional opinion, and walk you through the steps of your project! He's great at turning your dream into a reality on paper! 😁 He'll answer all of your questions! 💥

When asked why he works with Graber Outdoors, this was his reply:
At Graber Outdoors I am working with professionals that I can learn from and who will push me to take on new and challenging opportunities.

The feeling of belonging and liking the people I work with is one of the many reasons I love working for Graber Outdoors. This company allows me to expand my personal development and growth all while challenging it at the same time. Everyday I work for Graber Outdoors is one that I am grateful for.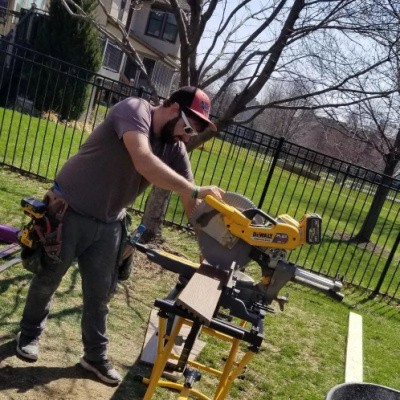 John David
Owner / Production Manager
John David has been part of the beginning of Graber Outdoors! He is a foreman and runs a crew. We are grateful to have him on the team! If you have any problems, he's the guy to contact! He'll communicate with you and help get it solved. He likes meeting new people and will strike up a conversation with you! (You've been warned😉)

If you can't find him on the job, chances are he's in the woods somewhere 😂 He is an avid outdoorsman. (So far we haven't had to search the woods for him when it's time for work but you never know….😉😁)

Reasons why John David is passionate about Graber Outdoors:
"I enjoy the work we do and seeing a project come together!! I like Graber Outdoors because of the job opportunities they have created and the family friendly atmosphere!! "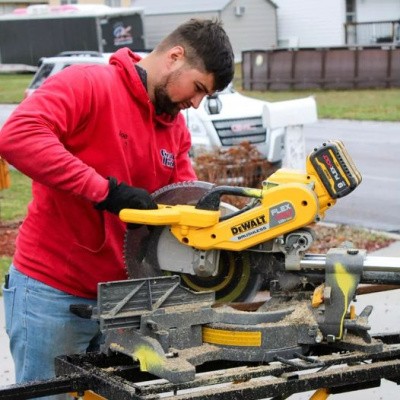 Joe
Joe's been a great asset to the crew! He is detailed and will make sure your project is done supremely. He is a foreman and is part of the reason your deck looks amazing! 🔨 (The rest of us just pretend to be the other part …😂😉 just kidding!)

When asking Joe about why he is passionate about what he does, his response was this:

"One thing I love about working for Graber Outdoors is the respect and care that us employees receive. We are allowed room to grow and the passion we all have for making quality decks that we can step back and say "Hey I did that! I've been doing construction for 8 and a half years. 2 years of that has been here at Graber Outdoors. I love my job and I love what I do."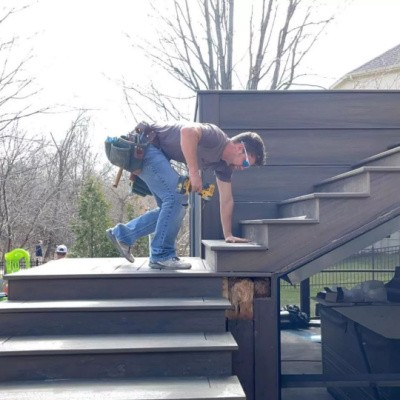 Jesse
Jesse is a foreman on one of our crews! He's been a excellent piece of the productivity of Graber Outdoors! He works efficiently and does a great job with details! We are grateful for his craftmanship.

Jesse is great with communicating with you as the customer. He will help make your project turn into your dream deck!

Jesse's response to our question of why he likes being a part of the team:
I like working for Graber Outdoors because of the integrity and honesty we receive under this company. And we strive to bring that to the customer as well as exceeding their highest expectations. I look forward to meeting the customers and making their deck building experience the best of the best! I've been doing construction for 9 years and I have 2 years experience and counting on building decks!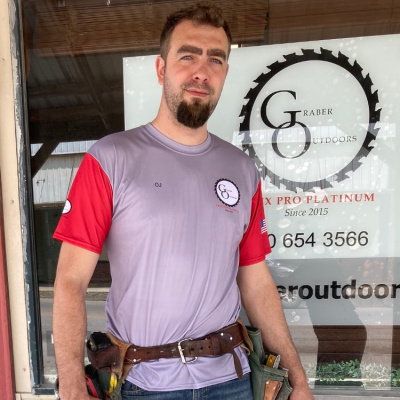 OJ
Oj was one of the first employees of Graber Outdoors when it first started! He took a detour for a year or so and now he is BACK and we are thrilled!! 🤸

Oj is a details type of person. He will notice and take care of all the small bits of your project. He loves history and old things. Don't get him started on one of his favorite subjects...🤣 Word on the street is that he has a pretty cool wife! (Totally not his wife posting this🤣)

When asked what he loves about Graber Outdoors, this is his reply:
"Raised by Amish parents out in the farmlands of Jamesport, Mo where I've lived my whole life and starting my first full-time construction job 16 years ago, took me through the school of hard knocks.
I started working at Graber Outdoors only a few months after it launched and it's been a great honor to see it grow into what it is today. I love building decks and seeing a project come together. Challenging builds are my favorite to figure out."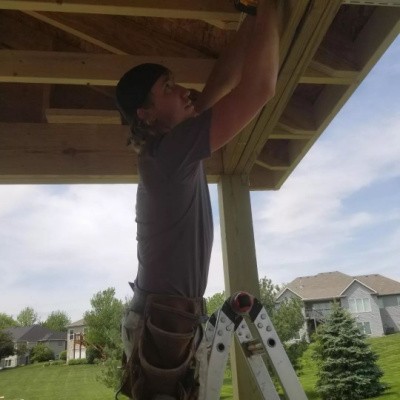 Dusty
Dusty is the latest addition to the crew and we are happy to have him on the team!
Beware of your dog if he's working on your project as he/she may come to like him better than you!
(Can't say I didn't warn you
)
Dusty is an avid sports player and likes hanging out with family and friends. He will take you up on your offer of a round of golf!
When asked why he likes to work with us, this was his reply:
Well half of what makes a job, a great job for me, is great coworkers who get things done right, have good attitudes and are easy going.
The other half is a mix of enjoying the work, getting treated well, honesty, mutual respect and no drama. Here at Graber Outdoors I'm lucky enough to have all of that. I have 7 years of construction experience and this is by far the most I've enjoyed it! Also love the mentality of doing right by the customer and doing what it takes to make them happy!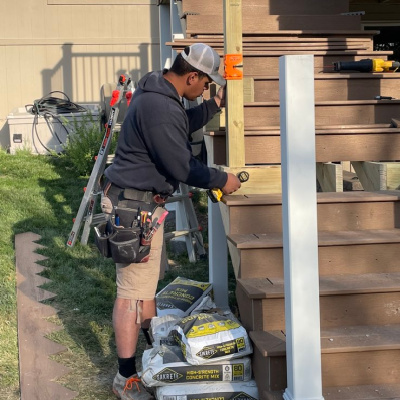 John #3
Meet John! John #3!
You get the picture...it's another JOHN!👏

John is a crew foreman. He's been with Graber Outdoors for a long time and we are delighted about that fact! 💥

John will be your go-to-pal throughout your whole project! Any questions or concerns and he will make sure they get taken care of!👌 He's the guy in charge! John's chatty and will talk with you about anything. Try it. 😉🤣

I cornered John and made him share why he loves Graber Outdoors...🤣 His response:
"I love Graber Outdoor's work environment. I enjoy going to different areas and seeing the unique design that people create for their projects. Great company to work with and great people!"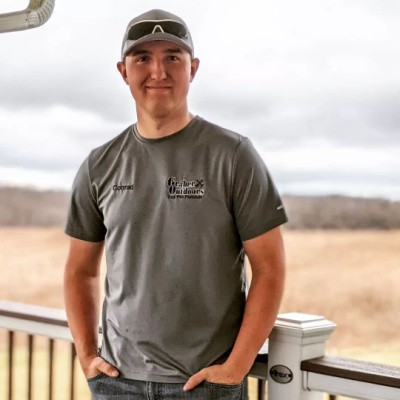 Conrad
We have been pleased with the part Conrad has played in helping the projects come together with excellence! He is a steady worker and will do things properly. He excels in being diligent.

If you want to gain brownie points with Conrad, talk to him about his Kansas City Chiefs! ( Or if you prefer, speak ill of them to be sure you have some conflict 😂) Conrad has spent most of his life outdoors and can spot an animal anywhere. 😮 Trust me on this one!

Conrad's reply to why he is a part of our crew:
"I like working for Graber Outdoors because of their work ethic."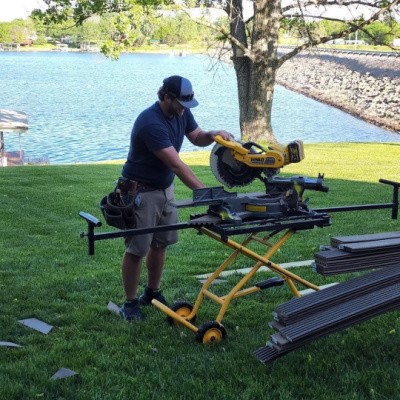 Daniel
Daniel's been a part of Graber Outdoors since close to the beginning! 🔨 He left for awhile but is now back and we are thrilled!!

We appreciate Daniel's team mentality and work skill. He will keep the humor on the job flowing while getting stuff done! 💪

If you can't find him on your project, chances are he's either somewhere playing sports or hunting or at a lake fishing! If you find him, let us know😉😂 HA!

When asked what he liked about working with us:
…I like the quality of work they do. They care about the customer and no job is finished unless it's done perfectly!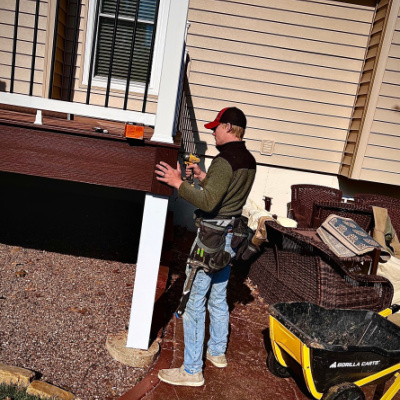 Alex
Alex joined our team this past year and we are delighted! We appreciate his desire to building Graber Outdoors. His energy levels are great!

Alex has soon-to-be 2 children. His family is obviously important to him.

When asked why he chose Graber Outdoors, this was his response:
"For me this job is a door-way for a room full of keys waiting to be utilized. From the job site to home life I know I can relax knowing I am taken care of. These guys know what they are doing, and learning from them has been a process but ever so rewarding!"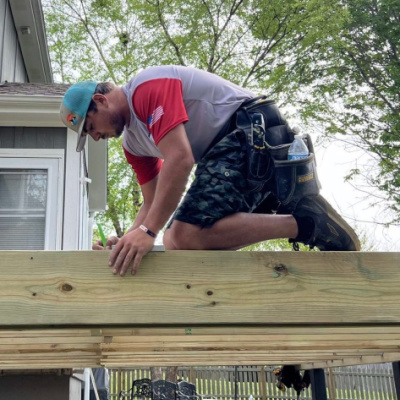 Marcus
Marcus joined the team and we are thrilled! We appreciate his work ethic and dedication.

Marcus is an avid hunter and loves football. Don't talk smack about his football team...just a warning!😉🤣 You may regret challenging him to a round of golf! 🏌

When asked what he particularly enjoys about being on the team:

"Graber Outdoors goes above and beyond for customer satisfaction and professionalism! The hard work is rewarding when you see the smile on a satisfied customer's face when their deck is completed. Also working along side great coworkers makes the time go by faster and is more enjoyable."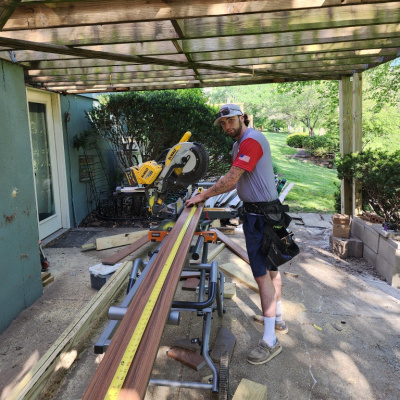 Zac
Another member of the Graber Outdoors team! Zac has been an asset to the company and we appreciate him! Zac can be found playing guitar or at a BBQ when he's not on the job. If your lucky, he'll invite you to one!😉🍔🍽

Zac's response to my question of why he likes working for Graber Outdoors:

"A couple things I love about the company is everyone I've worked with has had a good attitude about every situation, good or bad.
Everyone is respectful and gets along great. They make work not even feel like work. I have a great time everyday and I enjoy working with everyone in the company."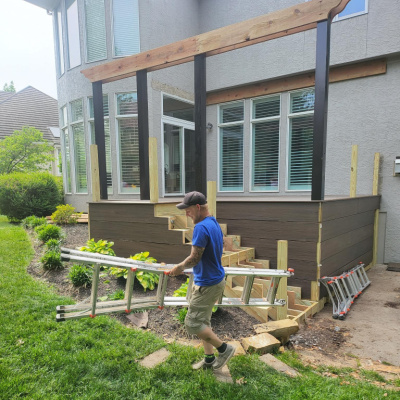 Justin
Justin joined Graber Outdoors this past year. We are excited to see where his future will take him! So far he has survived working on the Unruh crew...😉

Justin takes pride in his work which is what we stand for at Graber Outdoors! We want to walk away from a project satisfied with our work ethic.

When asked what he likes about his job, this was his reply:
"I like that I can build a deck for people to have their family over and kinda show off a really nice addition to their home. It makes me feel good that I helped build that for them. I'm somewhat new to construction in some areas and I like learning and progressing on every job that I do!"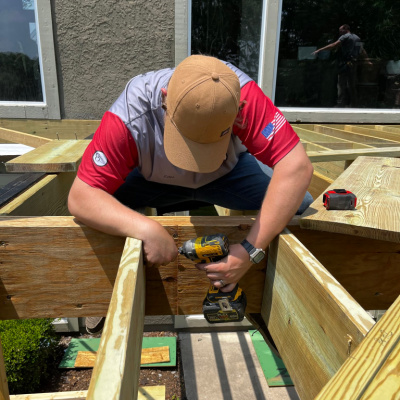 Josh
Josh joined the clan this spring and we are happy about that fact! 😃 We appreciate the team spirit he adds to the crew!

Josh will take a cup of coffee anytime of the days! 🤣
He previously worked on a ranch in Arizona so this Midwest weather is still an adjustment to him. So far, he has survived the humidity and mosquitoes!

When asked what Josh likes about Graber Outdoors, this was his response:
"I love Graber Outdoors! I've always loved working with my hands and this job brings it to the next level. Seeing a finished deck and knowing I worked on it is very satisfying. My coworkers are awesome and so is management as well!"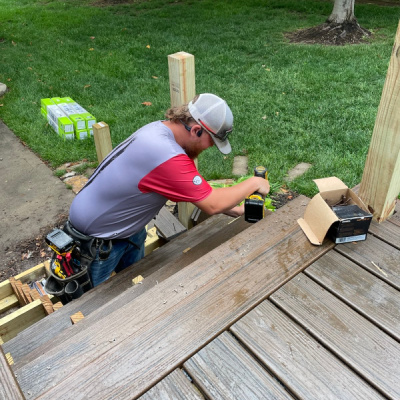 Riley
Riley has been as asset to our crew and we are grateful to have him on board!

It takes a lot to run a crew and have everyone working together for a particular goal. We love our crews! They have fun together and accomplish some pretty cool goals together!👏

Welcome shout out to Riley! May the force be with you!😉 Graber Outdoors is excited for your future!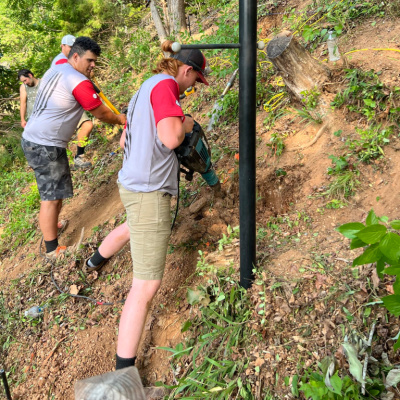 Logan
Logan joined the team at Graber Outdoors and we are happy about that fact! 😃

Logan is an avid fisher. He may have some fishing holes he'd take you to if your super nice to him!😉🤣

When asked what he likes about the company, his response was:

"I like the environment we work around and the people I work with!"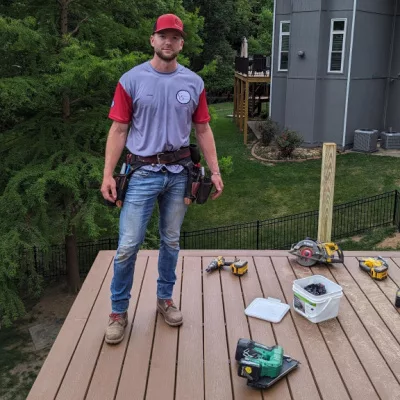 Chase
Chase joined the team and we have been excited about that fact! He has added to the team and we see a future for him!

Welcome to the circus Chase!😉

Chase has close to 5 years of construction experience so he is definitely not new to hard work. He enjoys coyote hunting and fishing! (I'm sure he would be thrilled to share hunting stories with you!🤣) On occasion you'll find him on the golf course. ⛳

When asked why he likes to work with Graber Outdoors, his response was:
"I love working outdoors and I enjoy carpentry. So it seemed to be a great fit."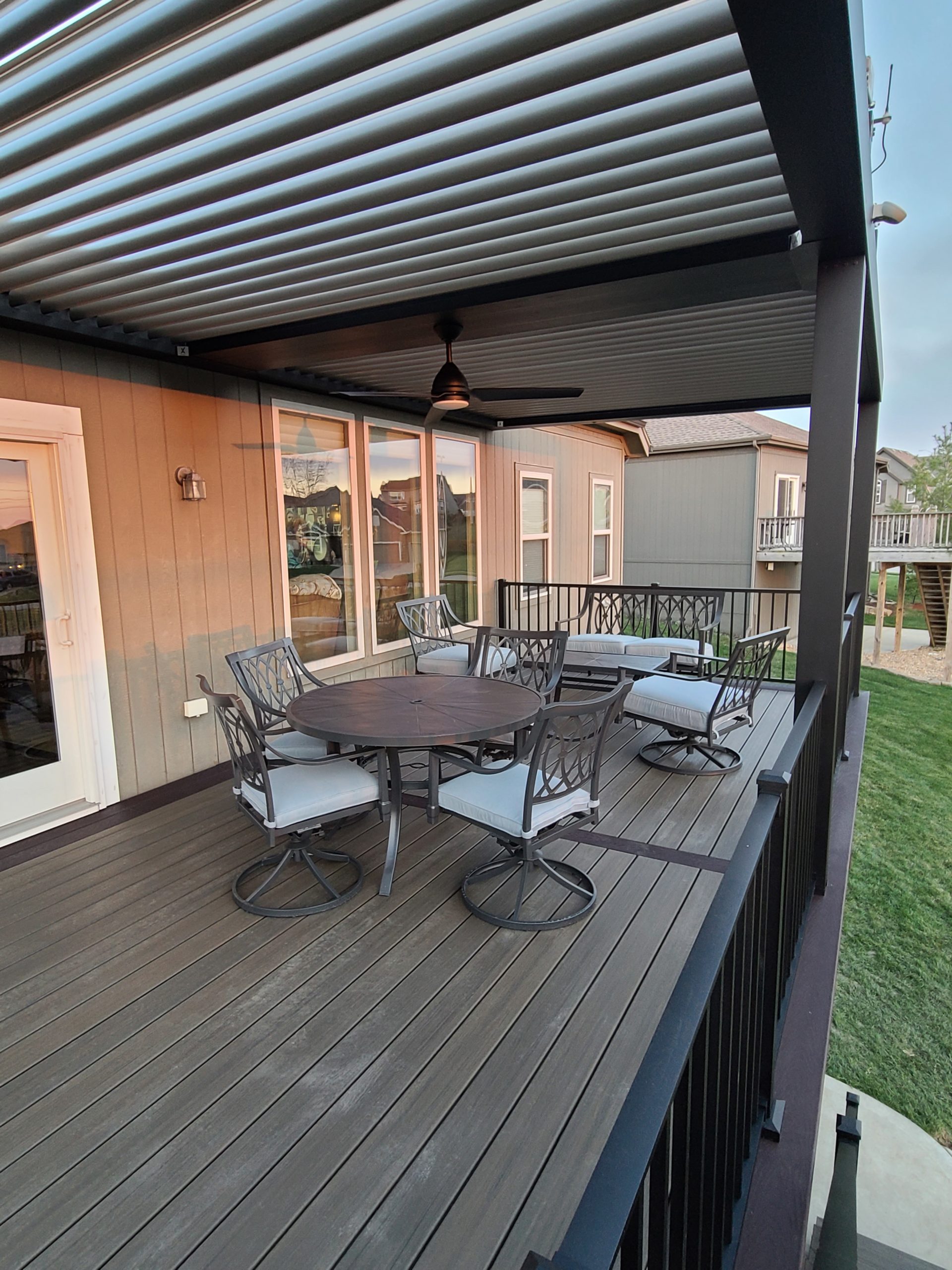 Dennis & Marilyn Hector
Love Our New Deck
Graber Outdoors did an amazing job on our deck. The teams punctuality, politeness, and attention to detail was outstanding true craftsmanship. We highly recommend John and his crew. Thank you for a beautiful deck.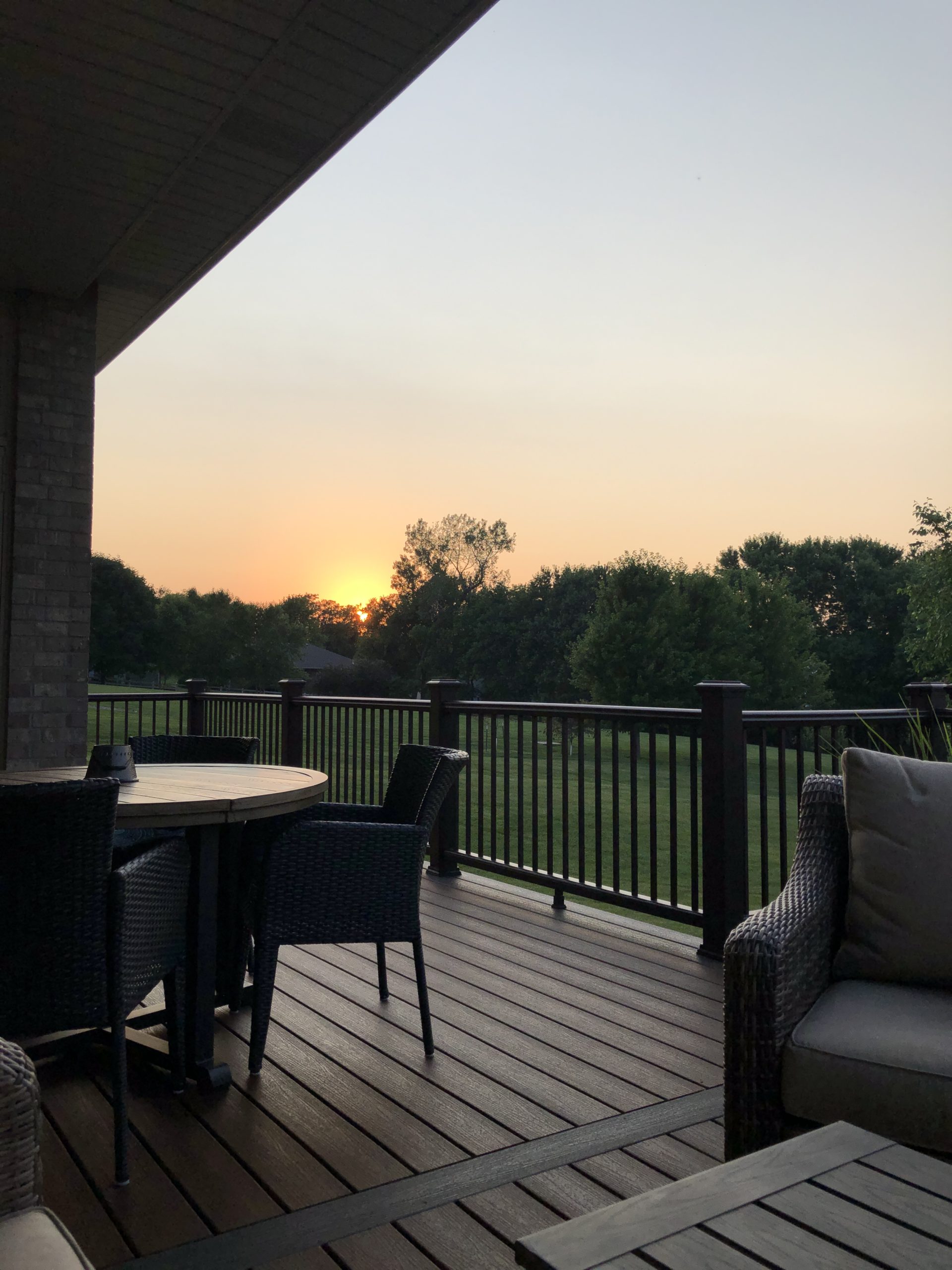 Shawn Youngkin
Professionalism, Customer Service, & Quality
John, Jesse, and the entire Graber Outdoors team were a pleasure to work with. The entire process was done at a top-notch level, from walking through the deck design, selecting the materials, the actual building of the deck, to the final walk-through. The level of professionalism and communication was superb. John kept me in the loop on every aspect of the project from beginning to end. Jesse and his construction team did an excellent job and his attention to detail was nothing short of superb. Customer service is difficult to come by anymore. Graber Outdoors truly strives to make it an outstanding customer experience. I highly recommend Graber Outdoors for any new deck installation or deck replacement projects. Thank you, John, Jesse, and the entire Graber Outdoors Team for a job well done. We now have a beautiful outdoor space in which to enjoy family and friends.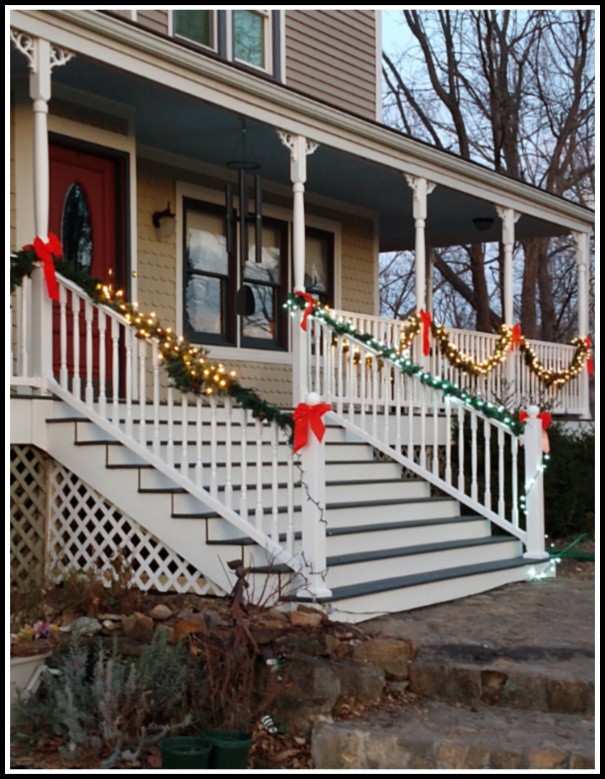 Wendy Borders
Top Drawer!
Graber Outdoors provided me with local clients who were willing to allow me to look at their work. Those clients sang their praises, and the decks I saw were gorgeous and had beautiful detail and quality. When my project was booked to begin, Graber Outdoors were right on time and had the necessary support equipment to keep the project uncluttered and progressing. I am very pleased with the new wrap-around Trex porch and the quality of the vinyl railings and posts used on my project. I also appreciate that they will check back with me in a few months to see if there are any problems- who does that? This outfit is top drawer!
John decided to expand from J.A.M. Wood Products to a full-service business that caters to all of your lawn, garden, and outdoor seating needs. In 2015, he established Graber Outdoors to provide:
Decks ~ Gazebos ~ Pergolas ~ Sunrooms ~ Outdoor Living Spaces ~ Custom Curved Decks
The Graber Outdoors Difference
As a premier Kansas City MO deck builder, what makes us different?
Very Professional ~ Epic Customer Service ~ Attention To Detail


Superior Product ~ Eco Friendly ~ Warranty
Here are a few frequently asked questions that we hear. Feel free to hit the dropdowns and read our answers!
Why do people hire Graber Outdoors over other contactors?
Our proven consistency to provide a quality deck on budget and on time.
Our impeccable reputation.
Our commitment to detail and follow up.
What sets Graber Outdoors apart from every other deck builder?
Our laser focus on Trex Decking Products.
By specializing in and being the premier expert in Trex, and not using 10 other products, our expertise and familiarity grows daily as our install times drop, saving you, the client, valuable dollars!
Does Graber Outdoors handle production in house?
Graber Outdoors is staffed with in house skilled craftsmen who are committed to their job and Trex Decking.
Subcontractors are hired for concrete, electrical, and other details.
All deck building crews are full-time builders for Graber Outdoors.