Outdoor Living Spaces Photo Gallery
Outdoor Living Spaces Photo Gallery
Browse Through Our Outdoor Living Spaces Photo Gallery
Under each photo is a drop down with a description of the products we used in the project. Most of the descriptions detail the floor product color, the railing product color and the railing product style used!
Take your time and explore what we have done!
Our Outdoor Living Spaces
The Williams'
~Blue Springs MO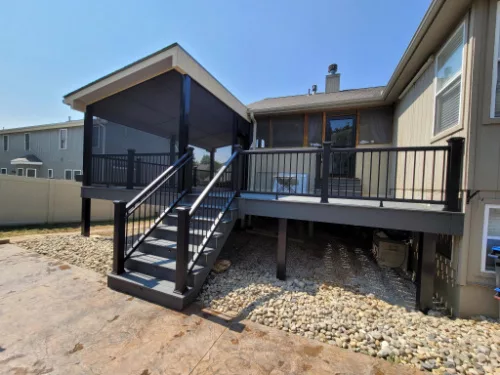 -Enhance Basics Clam Shell flooring and trims
-Black Transcend railing
-Black round aluminum balusters
-Black post sleeves
-ADA Handrail
-Black post wraps
-Bronze/Black Screen Eze Screen system
-Lightstone Guttering and Downspout
-Basic Ceiling finish
-Driftwood shingles for roof
-Trex lighting kit
The Innis'
~Lee's Summit MO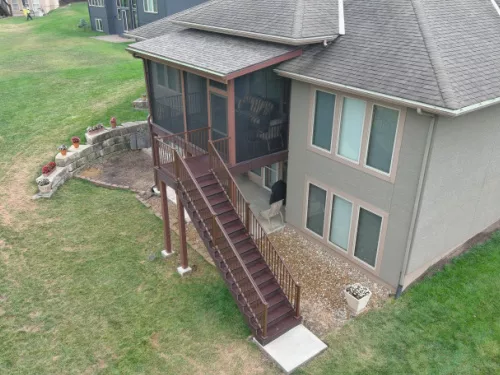 -Select Earth Tones Woodland Brown flooring and trims
-Bronze Signature railing
-Bronze Square balusters
-ADA Handrail
-Earth Brown post wraps
-Bronze Screen Eze Screen System
-Driftwood Shingles
-Ceiling finish with clear coat
-Canned lights dimmable with fan
-Fortress Steel frame
-Concrete Stair pad
-Earth Brown Guttering
-Trex lighting kit
Meet and learn to know the people that we have on our team! We value the importance of you knowing and trusting the people that we bring onto your property.
Here are a few frequently asked questions that we hear. Feel free to hit the dropdowns and read our answers!
Why do people hire Graber Outdoors over other contactors?
Our proven consistency to provide a quality deck on budget and on time.
Our impeccable reputation.
Our commitment to detail and follow up.
What sets Graber Outdoors apart from every other deck builder?
Our laser focus on Trex Decking Products.
By specializing in and being the premier expert in Trex, and not using 10 other products, our expertise and familiarity grows daily as our install times drop, saving you, the client, valuable dollars!
Does Graber Outdoors handle production in house?
Graber Outdoors is staffed with in house skilled craftsmen who are committed to their job and Trex Decking.
Subcontractors are hired for concrete, electrical, and other details.
All deck building crews are full-time builders for Graber Outdoors.